For the past month or less I have been dieting. I am feeling very accomplished because I have lost almost 15 lbs so far on dieting alone! It does not come without drawbacks though, like not eating all the super greasy fatty stuff that I love (like fried chicken... *cough*). I do not deprive myself though. I will allow myself a cupcake or some ice cream once a week, because I do not want to give in, get weak, and binge some day!
I am combining the Special K and Slim-Fast diets for anyone who is curious. I have a Slim-Fast shake for breakfast, a snack if I am not too busy or if I am hungry, a Special K protein shake for lunch, another snack in the afternoon, then dinner with the family. A regular dinner, a NORMAL dinner, and I am usually pretty hungry by then, but I still eat sensibly. I drink a lot of water throughout the day as well.
Yesterday I decided to start going to the gym. I started on the elliptical and did about 10 minutes on that, then walked on the treadmill for 30 minutes. I tried to jog, but my knee said "Fuck you!" I looked like a wounded horse so I went back to walking.
Today I went back, tried to get on the elliptical and my knee and thighs said "Fuck you!" so I got off and walked for 30 minutes then biked for 15 minutes.
Covered in sweat, flushed red, and feeling good! I only wish that I could look like this when I get done working out:
Sorry, but she is TOO skinny! Look at those arms! How can you fit a tattoo on it???
I mean, that is how I FEEL, so why shouldn't I look like a blonde, more plump version of this when I get done working out? No... instead I look in the mirror and I look like a more plump version of this: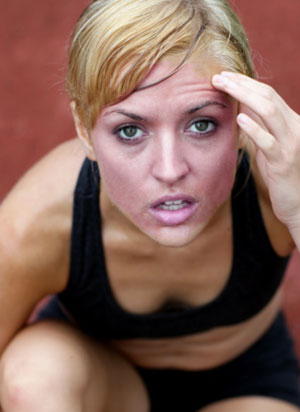 Not attractive AT ALL! I am doing well on my diet. I have stopped drinking soda (aside from the occasional diet Dr. Pepper), and I am slowly seeing the results I have wanted to see for a long time. So wish me luck to becoming the slimmer, healthier, cranky because I want my Popeye's Fried Chicken me.